Collaboration, knowledge sharing and innovation: these are the values that our staff and guests experience in our headquarters. The building's transparency is welcoming, while its design and surrounding greenery make it a pleasant place to work. With its smart, sustainable solutions, our work environment is prepared for the future.
Meeting place for collaboration, knowledge sharing and innovation
Our headquarters are an expression of how we like to work. The building is a meeting place for collaboration, knowledge sharing and innovation. Free-standing in its green setting, with its glass façade and partitions, the prevailing atmosphere is one of transparency. The quality facilities lend themselves exceptionally well to all kinds of gatherings in our collaborative work with partners. We demonstrate through our headquarters that it is perfectly possible for a knowledge institute to work in an entrepreneurial manner to meet public objectives.
When you enter you're received in the cascade: a large space filled with day-light. The upward-sloping, stepped floor, with seating areas, connects the building's side bays and floors. The first floor houses our chemical and microbiological research laboratories, their openness a clear reflection of the importance that knowledge development represents for our institute. Transparent work and meeting places are located on the ground floor. The building's design and layout invite people to get together.
Smart and sustainable
KWH believes in the wise management of nature, resources and energy. Sustainability is thus a leading principle in our building and its immediate environment. This is reflected in the building's consumption of 25% less water and 60% less energy compared to a similar building without sustainability provisions. The lower water consumption is achieved thanks to water-saving urinals and the reuse of process water, which reduce the wastewater discharge by up to 60%. While the energy savings are achieved through solar water heating, solar panels, LED lighting, energy-efficient equipment, and aquifer thermal energy storage for floor heating and cooling. Additional climate control comes from the use of the glass façade for warming, with no risk of over-heating. Sustainability was also a prime consideration in the choice of building materials. The design is based on the IFD – Industrial, Flexible and Demountable – building system, and makes extensive use of glass.
Architects: cepezed
Interior: Fokkema & Partners Architecten
Landscape architects: West 8
Project Management: HEVO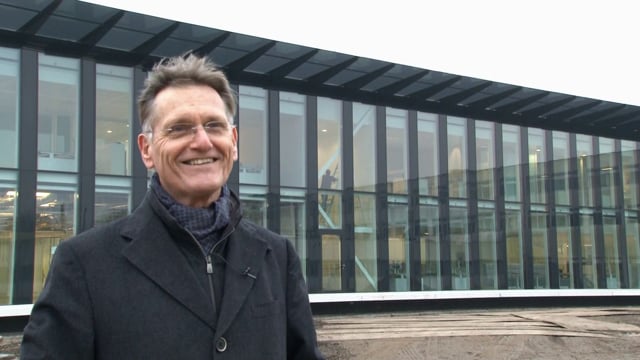 Video – 05:12
Trots op ons nieuwe gebouw